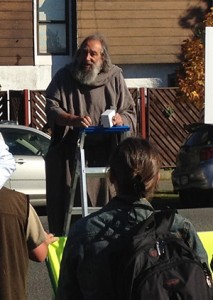 The Wizard called a "Demo against Demo" at  the Anglican Synod held at St. Christophers, Avonhead, on Saturday 4th April. The demo was timed for the 10.30 am Synod morning tea break and was held on the footpath. 70 people turned up to support his call to Save Our Cathedral.
70 plus people and the media turned up to hear the Wizard call for a Pause in the deconstruction of the Anglican Cathedral.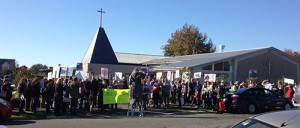 As expected there was strongly worded oratory raging for the retention of the Cathedral.  You will have heard  the media report that Bishop Victoria Mathews appeared and talked to the assembled crowd and announced she was prepared to meet with their representatives sometime this week.