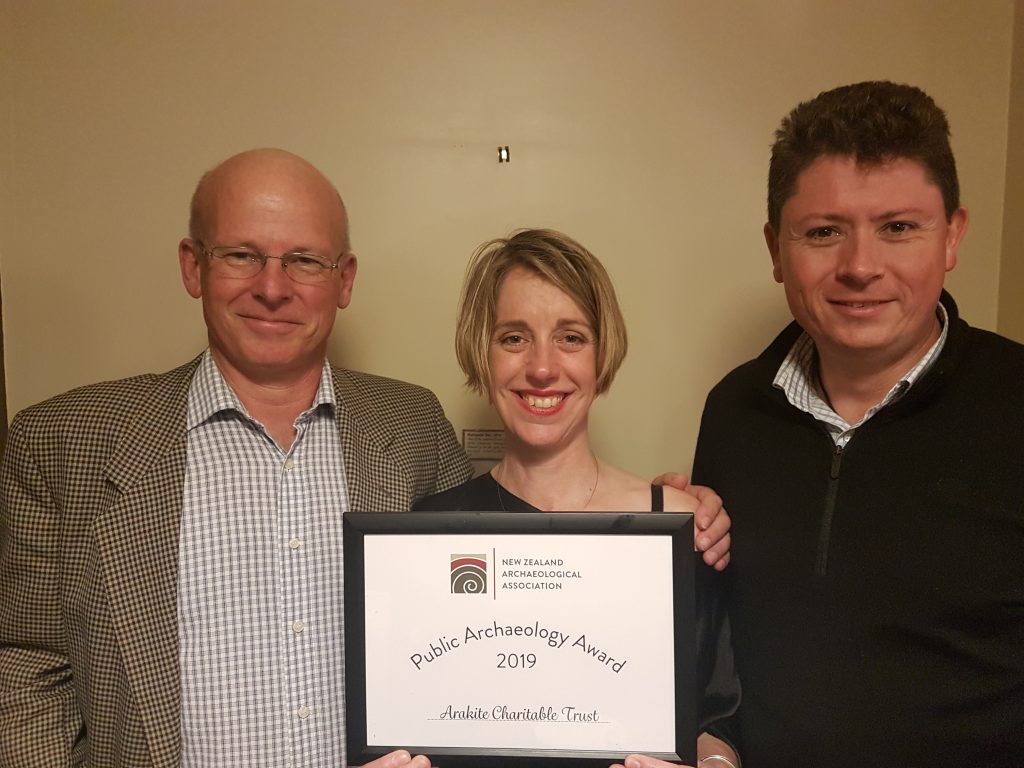 Public Archaeology award for iwi-led trust
A Northland iwi-led charitable trust has won this year's New Zealand Archaeological Association (NZAA) Public Archaeology award.
The Arakite Trust – which headed a two-week archaeological excavation at Mangahawea Bay in the Bay of Islands in January, and more recently a three day wānanga on traditional voyaging and navigation – took out the national award at this year's recent NZAA conference held on Stewart Island.
The excavation and wānanga was funded by the Lottery Tuia – Encounters 250 Programme, and was supported by Heritage New Zealand Pouhere Taonga, the Department of Conservation, the University of Otago and Te Rawhiti Marae.
"The Public Archaeology Award is an acknowledgement of Arakite Trust's commitment to engage with the public in a way that increases understanding and appreciation of New Zealand's rich archaeological heritage," says Heritage New Zealand's Northland Regional Archaeologist, Dr James Robinson, who together with Department of Conservation Ranger Andrew Blanshard, accepted the award on behalf of the Trust.
The Arakite Trust organised a public open day during the 2019 excavation, as well as the recent wānanga and a historic cruise of the Bay of Islands which was open to the public – all part of the wider Mangahawea project.
"In terms of fostering engagement with the public and archaeology the project has been a major success, quite apart from the archaeological significance of the work that was undertaken, which would never have happened without the Trust's commitment to this kaupapa," says James.
"Archaeology, traditional history and the hard sciences are different data bases, but when combined together can create something bigger than the sum of their individual parts."
According to the President of the NZAA Council, Katharine Watson, the Mangahawea Bay excavation project ticked all the boxes.
"Criteria for winning the award includes making a contribution towards the identification, protection and preservation of archaeological sites; the enhancement of public awareness, enjoyment of and education about archaeology; and the strengthening of the relationship between Maori and the archaeological community," she says.
"The programme led by the Arakite Trust engaged the interest of hundreds of people who visited the site over the two-week excavation, as well as thousands of New Zealanders who learned about the excavation through extensive media coverage, which included national radio, television and press.