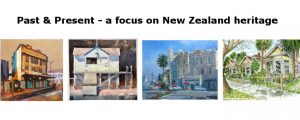 Support Auckland's art community and Heritage New Zealand!
An exhibition of paintings by prominent artists with an interest in the protection and restoration of Auckland buildings and beyond is commencing soon at Railway St Studios in Auckland, with a percentage of the sales of the works going to support Heritage New Zealand's work.
Four Auckland-based artists are concerned about the protection and documentation of our heritage. This art exhibition highlights cherished icons such as Rangitoto baches, the Esplanade Hotel, St Mary's Bay villas, trams and cottages at Motat, to name a few.
"The images in this exhibition show something of this precarious and often threatened heritage," says artist David Barker.
"These works become part of a valuable inventory, described with great care. In them lies an archival documentation worth retaining as it touches us all, however brief our history.  What better way to capture the essence of our past and preserve it for future generations."
The Past and Present exhibition and its core theme of protecting heritage is a great fit for Heritage New Zealand and it is pleased to get behind it.
"Any financial support that comes from the exhibition will help Heritage New Zealand to protect this country's unique heritage and historic places," says Heritage New Zealand's Manager of Asset Funding, Brendon Veale.
Featured artists are David Barker, John Horner, Graham Downs and Murray Dewhurst.
The exhibition at the Railway Street Gallery in Newmarket, Auckland, opens on 15 March and runs until 3 April.  For more information please click here.