September 22
MEDIA RELEASE
Kiwi duo goes live on ground-breaking Time Team project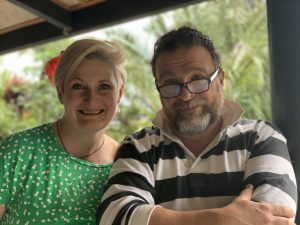 This week the Bay of Plenty is going live to the world on a special online version of Time Team as Waihi Beach-based archaeologist and conservator Brigid Gallagher – together with partner Raysan Al-Kubaisi, who is an architect, buildings adviser and head of graphics creating some of the programme's 3D reconstructions and animations – take part in an excavation , virtually, of a Roman villa site at Broughton Estate, Oxfordshire. The estate is the seat of the Fiennes family.
The duo, working within the wider Time Team whānau, will play a key role in the work of the excavation as it unfolds on September 23-26. 
Brigid – who for seven years featured in the much-loved British TV series that celebrates all things archaeological – will provide her expertise as a conservator, offering insights into the intriguing finds expected to be unearthed.
Due to current travel restrictions she is unable to be present onsite as an archaeologist – and because it is not feasible to lead an excavation remotely she is instead focusing on conservation and investigative work to learn about the artefacts that are found, and stabilise them.
Raysan meanwhile will develop some of the all-important digital graphics that help the audience visualise clearly the features found by the archaeological team. Besides providing graphic interpretation, Raysan's work also allows him to take the raw information, like laser scans and other data, to develop reconstructions of the discoveries, such as the villa itself.
The reconstructions are so sophisticated and detailed, the images enable archaeological theories to be tested and to visualise what the archaeologist interprets – and determine whether the theories are viable.
What's remarkable is that this work – central to the success of the excavation and the TV programme – will take place with Brigid and Raysan on the other side of the world from where the archaeological action is taking place. Waihi Beach to be precise.
So how does that work?
"Nothing beats being on an excavation, being part of the discoveries, seeing it with your own eyes and piecing it all together. You need the trowel and spade in hand," says Brigid.
"However, like lots of projects or jobs these days, reaching out across the globe to other experts has become common practice; to plan, discuss and interpret. The internet worm holds no bounds in the sharing of knowledge. The producer of the series has put together a cast of original and new faces, and my role as the team's archaeological conservator is a better fit for the new format working with the finds specialists in the UK to reveal important information on vulnerable artefacts excavated, and advise on their analysis options and care.
"The ability to communicate the science of materials and chemistry in an accessible way also makes it easier for me to be an expert in this new format, rather than as one of the field archaeological team which is where I began. That really isn't the same without being there."
Physical distance is also no obstacle when it comes to processing digital data and imagery according to Raysan.
"Nowadays, with the use of laser scanning and photogrammetry we are able to see landscapes and artefacts here in New Zealand on screen, manipulate them and discuss them in real time – which could never have happened before," he says.
"This gives an increased ability to manipulate images and apply multiple data sets to single graphics which can then be understood in context as an excavation is happening in real time. This in turn aids decision making, strategy and interpretation as field work takes place."
Two weeks ago, the New Zealand-based team managed to get one live excavation under their belts; the excavation of a fogou – an underground stonewall structure unique to the Cornwall area. With ongoing human occupation spanning the Neolithic to at least the Roman period, the site was a difficult one to come to grips with during the three days of excavation.
Besides the complexity of the site, the team itself also worked through the usual challenges expected with a new team configuration and format. Before long, though, everyone found their groove.
"It was hectic, adrenaline-filled – and great to see old friends," says Brigid.
"Being part of the Time Team is like having another large family. It was hard not to be at the excavation site, though, as it sounded very exciting… particularly on the last day."
Because of the complexity and scale of the excavation – and the short filming period – the site in Cornwall was handed back to an archaeological society to continue working on it.
Participating in the excavation across the distance wasn't a major problem however.
"We had a set time to meet with the UK 'Dig Watch' presenting team Derek and Lawrence. They gave us an update of progress and we then set them some tasks to do for us, and vice versa," says Brigid.
"They let us know if something had come up that we were needed for from their end. My role, as archaeological conservator, was to provide advice as needed by the finds team – though my fingers were definitely itchy for some excavation work and being on the ground among the conversations and interpretation.
"It worked well, though, and it was really good to try this new way of working remotely."
The format, different time zones and remoteness meant Raysan and Brigid were testing things to the limits – such as working through part of the night – though it worked and the duo are looking forward to this week's excavation.
"I certainly feel more connected with the world through this Time Team project, particularly since Covid arrived," says Brigid.
"Although it has its challenges, this method of working has good environmental outcomes in terms of lowering carbon footprints while also maintaining professional and academic relationships across the globe.
"Who knows when the next time will be when we can legitimately just get on a plane and attend a meeting, conference or take part in an excavation, and then pop home again?"
Crowd-funded by Patreon – a viewing platform that enables subscribers to check out video clips and interviews as the excavations unfold – the video footage from both projects will eventually be edited to make a final Time Team episode that will be shown online; first on Patreon and then You Tube.
In the meantime tantalising snippets of the filming and interviews will be made available to subscribers during the excavations giving people a taste of what is going on, and enabling people to feel part of it – even if they happen to be on the other side of the world.
"Various social media channels are offering video and information on the excavation but just be aware that the final 'wow' moments may be being held back for the final programme," says Brigid.
People interested in experiencing the excavation in real time – or as close to the real thing as you can get – can follow any of the links below. They can also go online and ask questions over the three-day excavation.
Follow the links:

Website: https://www.timeteamdigital.com
Patreon: https://www.patreon.com/timeteamofficial
YouTube: https://www.youtube.com/TimeTeamOfficial
Instagram: https://www.instagram.com/timeteamofficial
Twitter: https://twitter.com/thetimeteam
Facebook: https://www.facebook.com/officialtimeteam
Brigid and Raysan also have some official Time Team Merchandise for giveaways to fans on this side of the world. So if you want to be in to receive some of this over next weekend,
Pop over to their accounts with your question/favourite Time Team moment….
Instagram: https://www.instagram.com/mishmishheritage
Or
Twitter: https://twitter.com/brigidmg