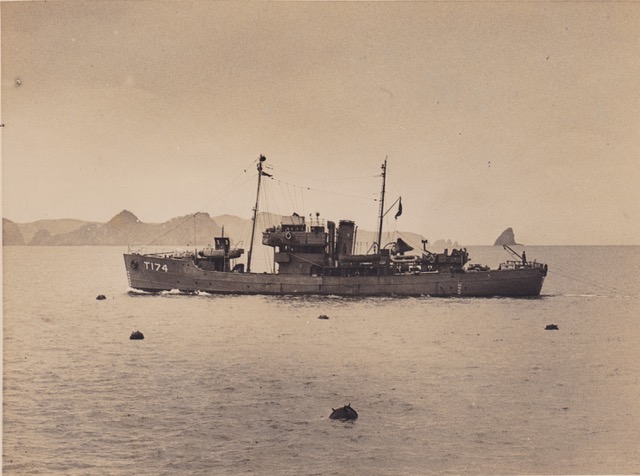 HMNZS Killegray (Source Heritage New Zealand)
April 24
MEDIA RELEASE
Historic photo highlights reality of Fortress Northland
A striking photograph that serves as a reminder of Northland's importance as a first line of defence against enemy invasion during World War II has surfaced as a result of a heritage inventory being undertaken by two Northland volunteers.
Jack Kemp and Dr Bill Guthrie, who have spent almost two years identifying and recording military places associated with World War II in Northland as volunteer researchers for Heritage New Zealand Pouhere Taonga, discovered the image while carrying out interviews with people who served in Northland during the War and their descendants.
One of the interviewees, Kevin Hall, is a collector of photos associated with the history of the Far North – including the black and white photo of HMNZS Killegrayclearing sea mines in the Bay of Islands.
"There's something quite confronting about this picture which captures these deadly mines bobbing in the water, with the Bay of Islands' distinctive Ninepin Rock – or Tikitiki – on the horizon," says Heritage New Zealand's Northland Manager, Bill Edwards.
"It's a seascape loved by thousands of visitors – and yet here we see a bunch of mines floating in the water where many of us enjoy recreational water activities today. It's a stark reminder that Northland was a fortress on high alert against attack after the bombing of Pearl Harbour."
The photo was taken by Tudor Collins, who served as a petty officer in the Royal New Zealand Navy during the war. Prior to this, Collins had developed a reputation as a noted freelance who was one of the first photographers in Napier after the Hawke's Bay earthquake of 1931. He also recorded Auckland's Queen Street riots in 1932, and was the only photographer to meet the passengers and crew from the mined Niagrain June 1940.
"Despite the military purpose of Collins' photo, it's as much an example of New Zealand social history as his pre-war work," says Bill.
The mines depicted may have been part of a network of 13 loops of 16 contact mines in the channel between Moturoa and Moturua Islands, or more likely some of the 258 contact mines laid in three lines between Ninepin Rock and Whale Rock.
Further north, the Whangaroa Harbour was protected from seaborne invasion by a line of 30 mines across the entrance to the harbour which would have been activated from a Controlled Mining Station.