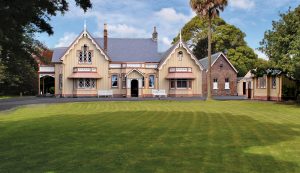 December 5
MEDIA RELEASE
Christmas Time at Highwic
Christmases past will be celebrated at Highwic this year as harpist and entertainer Cathie Harrop presents Christmas Time at Highwic – a series of concerts providing a glimpse into the celebration of Christmas in Victorian times.
The historic mansion in Newmarket, which is cared for by Heritage New Zealand, will be the perfect venue for the concerts which will include storyteller and narrator Illona Rogers, pianist Hadley Ronayne along with musicians Jennie and Dave Khan, and soprano Amanda Kirk.
Christmas Time at Highwic will hark back to the days when there was time to enjoy family gatherings, parties, dances, grand balls, and friends gathered around the piano. The concerts will capture the fun, laughter, nostalgia and homesickness which were a hallmark of Victorian Christmases in New Zealand. Music, stories, songs, parlour games and monologues will be performed on the night bringing these feelings to life.
"The Christmas shows that Cathie and her team have put on in the past have been wonderful, and this year will be no exception," says the Manager of Highwic, Cheryl Laurie.
"Before the concerts begin people will also be able to explore Highwic's traditional Christmas gift shop, and after the show enjoy a Victorian style supper in the billiard room with the performers."
Don't miss Christmas Time at Highwic, December 17 (6.30pm), December 18 and 19 (7.30pm). Tickets $49 per person (all inclusive). Bookings essential – book viawww.cathieharrop.com or Ph 09-479-2361.