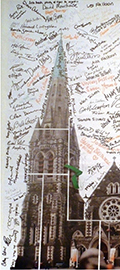 Update: The Greater Christchurch Buildings Trust presented a Deputation to the C.C.C. Earthquake Forum. Led by Jim Anderton and Philip Burdon the  GCBT gave an overview of their plan to make safe the Christ Church Cathedral.
The Councillors were not allowed in a ruling by the Mayor to Q&A with the Trust's Deputation "Team".
Rob Hall GM Southern Region NZHPT presented a Deputation on behalf of the Trust.
We have requested a copy of Rob Hall's NZHPT Deputation for posting on this website. Rob Hall's Deputation can be found here.

Note: The Mayor used the word Deputation despite this being a C.C.C. Forum. We shall be seeking a clarification of the Forum's status.
Previous Posting:
"This is an extremely important meeting because it should lead to a Council Vote in the near future on supporting restoration.
A STRONG SHOW OF SUPPORT IS NEEDED. PLEASE TRY TO MAKE IT TO THIS THURSDAYS MEETING."
Mark Belton (Restore Christchurch Cathedral)

Presentations on Christ Church Cathedral by N.Z.H.P.T. and Greater Christchurch Buildings Trust  To C.C.C. Earthquake Forum 9.30 am 21st March, Council Chambers, Civic Offices Hereford Street. (The full Council will be in attendance.)
The independent Panel of Expert Engineers plans for phased stabilisation work will be presented.