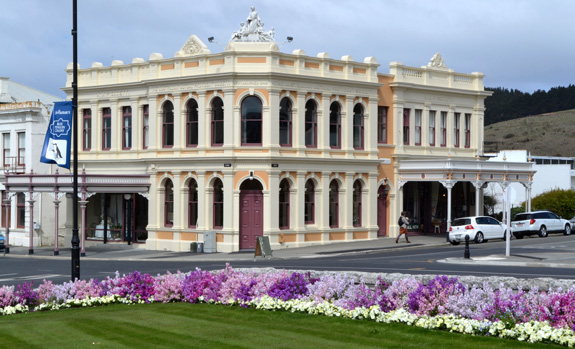 The restoration of this Oamaru building on the corner of Itchen St and Tees St has been awarded a New Zealand Institute of Architects Local Architecture Award (Southern) Citation.
We could comment on:
...Peter Garvan the Club President and Waitaki Councillor who has led by example...
...Ian Butcher the Architect, whose "well reasoned approach" to the restoration was awarded the citation... and who emailed us that you should also visit the Fitting Shop at the Dunedin Gasworks Museum...
...the second NZIA Local Architecture Award Citation awarded for the Colour scheme...
We respectfully ask that when you are in Oamaru:
STOP AT THE NORTH OTAGO CLUB, LOOK, RELISH
and enjoy the building by having tea at Annie's Victorian Tea Rooms (they are on the ground floor)...and REMEMBER...
The words of the NZIA Local Architecture Award (Southern) Citation that read:
"The Architect has taken a well-reasoned approach to research and has paid close attention to historical detail in this skillfully executed project. The result is a work with an excellent contextual fit and which communicates a rich sense of time and place."
The local media have the details on restoration of the North Otago Club -
http://www.oamarumail.co.nz/news/north-orago-club-restored/1181854/
http://www.odt.co.nz/regions/north-otago/188254/two-awards-building-restoration
and Annie's Victorian Tea Room-
http://www.oamarumail.co.nz/news/lid-lift-teapot-dream/1129398/
http://www.odt.co.nz/regions/north-otago/181667/mayor-takes-tea-cakes-victorian-style
In the not too distant future we will be interviewing Peter Garvan, Ian Butcher and some of the people/ buildings behind the Oamaru heritage resurgence.
We have interviewed Ian Butcher the Architect for this project, which we will be posting.
Warning: Peter Garvan is very enthusiastic about this building and if given an opportunity he will give you a great tour!
[North Otago Club Image: Ian Butcher]