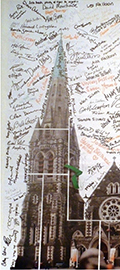 Media Release:  Cathedral Poll Results
The Anglican Church has released its Cathedral poll based on just 3750 respondents with 51% voting for the contemporary design.
Mark Belton from Restore Christchurch Cathedral Campaign comments
"The church's poll is a small and biased sample, compared to the 5 x larger Press Poll which has had over 18,000 respondents, therefore in no way can the church's poll be considered representative".
"The Press poll shows 38% preference for restoration, and 21.2% for the look-alike replica and 35.5% for the contemporary option. In total 60% want a cathedral that looks like the old one".
"Polls are only useful if those polled are well informed with factual information. In both polls results have been skewed by the ridiculously exaggerated $220 million restoration cost put out by the church. More realistic estimates of restoration cost are a third of this amount".
"100% of CHCH people would support the restoration of the Arts Centre that is currently underway. If the church had got on with restoration they would have 100% support for this project as well. Instead they have created a divisive issue. For the people of CHCH who need to heal and recover this divisiveness is a missed opportunity and great tragedy."
"Great Christchurch Buildings Trust generous offers to assist with restoration of the cathedral is the most important information for the people of Christchurch to digest at this time. Unfortunately the media has given close to zero attention to this generous offer. And the church has thus far spurned the GCBT offer"
The GCBT will pay for the stabilisation of the Cathedral
The GCBT will help raise the additional funds required for the restoration
 The GCBT can help assist manage the stabilisation and restoration project
The stabilisation work could start immediately with full restoration completed in 5-7 years
Contact Person
Mark Belton             027 229 1483
Spokesperson
Restore Christchurch Cathedral  Group