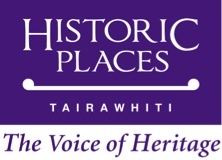 "Dame Anne Salmond ... guest speaker for the launch of Historic Places Tairawhiti Inc, the region's new voice for heritage."
New voice for heritage in region
The 250th anniversary of Lieutenant James Cook's arrival in this region may be six years away but it is already the focus of much behind-the-scenes discussion and planning.
And it is this topic that New Zealander of the Year Dame Anne Salmond will focus on in late August as guest speaker for the launch of Historic Places Tairawhiti Inc, the region's new voice for heritage. The launch coincides with the last Annual General Meeting of Historic Places Trust Tairawhiti branch, which the new Historic Places Tairawhiti Inc organisation supersedes.
Dame Anne, who was raised in Gisborne from the age of seven, will discuss the significance of the sestercentennial of Cook's 1769 landing to this region and New Zealand.
Historic Places Tairawhiti branch chairman James Blackburne expects a good turnout for the meeting, which is open to anyone interested.
"With the imminent change to the Historic Places Act and the winding up of the committee structure, it was important to set up a replacement focus group in Gisborne as its replacement, to be the voice for places, resources and issues of historic significance in the Tairawhiti region," he said.
"The sestercentennial could be a defining event for this community and has the potential to create a legacy for future generations. At the bicentenary of Cook's landing in 1969, we gained the Cook Plaza, a few coins and two statues – the Crook Cook on Kaiti Hill and Young Nick.
"We hope that the lasting legacy from the sestercentennial is better than that and allows Gisborne to stand on the world stage as a heritage tourism destination."
Mr Blackburne said Historic Places Tairawhiti Inc will work with Gisborne District Council, Tairawhiti Museum, Te Unga Mai, Tairawhiti Heritage Trust, Historic Places Trust/Heritage New Zealand, marae and schools.
"HPT Inc will have a more visible presence than its predecessor and plans to do more for members with educational talks, regular meetings, and walking and bus tours. The Plunket building in Palmerston Road will be restored as the society's physical base, and we have applications in to help fund this.
"Our heritage is an important asset and gives us our unique identity. A lot of people travel overseas to see other countries' heritage. Ours is equally important. We want to engender a passion for heritage, so that it will be cherished and protected, to the benefit of today's and future residents and visitors."
Historic Places Tairawhiti : The Official Launch @ 4.30pm Tairawhiti Museum, Saturday 31 August 2013
Media Contact:
James Blackburne
Tel: o6 867 9622
Email: james@a44.co.nz