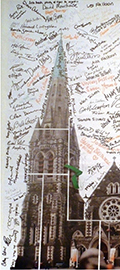 The  Independent Panel of Structural Engineers report on how to restore the Cathedral is being presented to C.C.C.  Community, Recreation and Culture Committee tomorrow at:
9.0am. 5th March-The Function Room, Level 1, Civic Offices, 53 Hereford Street
"This is an extremely important presentation to the Cmttee chaired by Councillor Yani Johanson." Mark Belton Restore Christ Church Cathedral.