The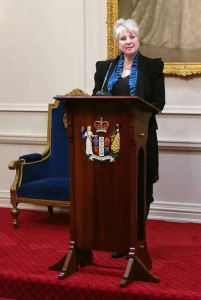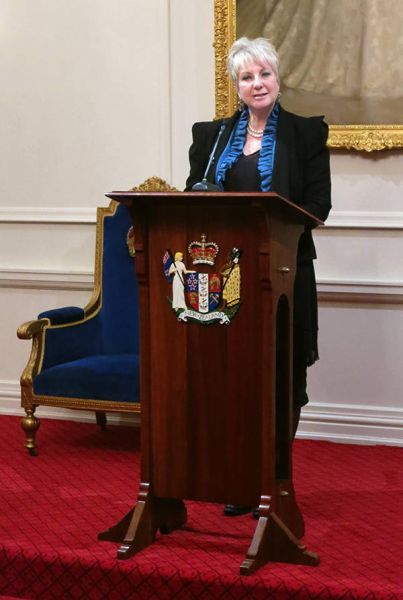 following speech was delivered by
Historic Places Aotearoa President Anna Crighton
at the
Official Launch of Historic Places Aotearoa
at Government House.
Haere mai, naumai, haere mai
Tena koto, tena koto, tena koto katoa
Your Excellency,
Members of Parliament,
Dame Anne Salmond, Patron of Historic Places Aotearoa,
Shonagh Kenderdine, Chair of the New Zealand Historic Places Trust,
Historic Places Aotearoa Executive,
Historic Places Aotearoa Regional Society Chairs and members
and other distinguished guests.
In February 2010, when the government announced that a review of the Historic Places Act would include the disestablishment of branch committees and elected representatives, a ripple of disquiet, and in some places anger, went through the heritage volunteer sector.  A meeting of Branch representatives was held in Wellington later in July 2010 with the main objective to decide on a future for these disestablished branches.  An Executive was formed to drive a replacement national structure – this national organisation is now known as Historic Places Aotearoa.
Two years on, Historic Places Aotearoa, a non-government organisation,
has become well established,
has the support of several regional societies and
has a growing membership.
Historic Places Aotearoa will attract the support of the 'eyes and ears' of those hundreds of volunteers throughout New Zealand which may have been lost through the disestablishment of the HPT Branches.  A strong local voice to advocate for vulnerable heritage is immediate and necessary - not just from the devastation of earthquakes and other acts of nature but also from man-made destruction through inappropriate development.
And, yes, history does repeat itself.
With this historic launch of Historic Places Aotearoa we are going back to the future,
back to the grassroots of people power through our membership,
membership in the regions, without fear or favour, supporting and advocating heritage protection and promotion throughout New Zealand.
Historic Places Aotearoa is still small but is growing fast. Here in Wellington, for instance, there are already more than 100 members. As we grow, our Regional Societies will become more active and will become more involved in their own communities through education, advocacy and events for their local members.
We will be working closely with the Historic Places Trust, soon to be renamed Heritage New Zealand, and together our two organisations will provide a stronger voice for country's heritage.
After more than two years of work we have taken this organisation from an idea to a reality. Many hours of voluntary work have gone into it and I want to take this opportunity to thank the other members of the executive who, through the high standard of their contribution their respective talents and skills, have formed this solid and credible new organisation,
David White from Central Otago
Jimmy Wallace from South Canterbury
Peter Dowell from Wellington and
David Kiddey from Wellington
James Blackburne from Tairawhiti
Ladies and Gentlemen this is a very proud day for Historic Places Aotearoa.
Thank you for sharing it with us.