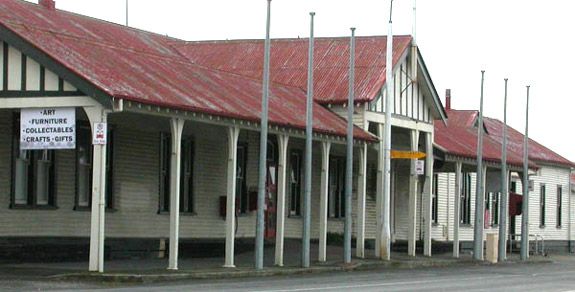 The Ashburton Heritage Trust is in a 'last ditch' struggle, through the Environment Court, to save the town's historic Railway Station from demolition. Built in 1917 it is a large Vintage Troup station, less ornate than some but of graceful proportions with a commanding presence in the town. The Station bears a Category A listing in the Ashburton District Council's District Plan and, combined with the Footbridge, has a Category II listing from the New Zealand Historic Places Trust.
Purchased by a developer in 1987, it was run for a number of years as a tourist outlet, but has had no tenant for over 10 years. "Demolition by neglect" best describes the owner's current position. However, despite its outer shabbiness, leaking guttering, boarded-up windows and graffiti, and the removal of most interior walls, the building is still structurally very sound.
Ashburton has had a poor record of preserving its heritage buildings, and we are desperate to salvage and restore the Station as one of the last heritage public buildings in the district.
In the latest Interim Decision from the Environment Court we have been challenged to prove community support, and to raise funds to purchase the Station land and buildings. We have made application to various funding bodies and have a little over $50,000 in pledges from the community – we are still working on this area. We have two prospective tenants eager to move in. But there is much more needed, not only to purchase but also to restore the Station to something of its former glory.
If anyone reading this can help in any way at all we would be most grateful.
Maxine Watson
For The Ashburton Heritage Trust
PO Box 483
Ashburton 7740
Email: saveourstation@xtra.co.nz