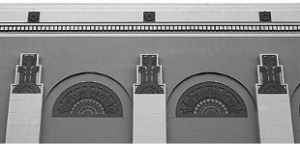 The following is the text of the "Save the Majestic Theatre" Deputation to the Christchurch City Council Earthquake Recovery Committee.
To: Mayor Lianne Dalziel and Christchurch City Councillors
From: Historic Places Canterbury [HPC] / Save the Majestic
A Deputation seeking Council's support to save the Majestic Theatre
Why should the Majestic Theatre be saved and restored?

The Majestic Theatre building houses a major theatre and associated office spaces.  It has the potential to become a key focal point for community-based cultural and social activities. It could also service smaller-scale  convention needs.
Too much of the CBD's heritage fabric has been demolished; we cannot afford to lose more.  Restored heritage buildings will alleviate the potential blandness and monotony of the post-quake city by providing variety and contrast.
The Majestic is a listed historic building with significant cultural associations and a distinctive urban presence at a major central city focal point.
Built in 1930, The Majetic has served as a lyric theatre, cinema and church.
Significant performers include the Beatles,  Kiri Te Kanawa, Elisabeth Schwarzkopf,  Manfred Mann and many others.
It is the city's first fully steel-framed building  [380 tons]
A landmark building on a key intersection. In a city where visual monotony is likely, it will provide context and contrast for the new glass and steel Stranges building opposite.
Its Art Deco façades and Hispano - Moorish interior complement the restored heritage of New Regent Street.
It provides versatile seating capacities according to need: originally seating 1650, it now accomodates 800.
Serious earthquake damage is confined to the stagehouse allowing phased repair and/or reconstruction.
Reinstatement plans and a detailed engineering assessment have been prepared but not costed.
Indicative costings of between $10-14 million suggest a good return on investment, producing an asset worth $60-80million.
The lower costs arising  from a restored building could be passed on to community groups through affordable hire charges.
There is strong public support for retention of the building. "My company would use a restored Majestic if it were available and I would be first to write a deposit cheque to secure a booking." [Ben McDonald, letter to The Press, 30.11.13]
What major problems need to be solved?
The Majestic is now owned by CERA and forms part of the CCDU's east frame designation.  The expectation is that it is to be demolished to create green space.
CERA /CCDU Accessible City plan indicates that Manchester Street is to be widened.
Our response:
The Majestic is too valuable a heritage building to needlessly demolish and potentially offers a vibrant interface between the east frame's inner city living, the Innovation Precinct and the CPIT.  Furthermore, it is only a 10 minute walk from the proposed cultural precinct.
Widening of Manchester St can be achieved without sacrificing the Majestic through reconfiguration of the Manchester, Lichfield and High Street intersection.
We urge the Christchurch City Council to:
  Resolve that The Majestic be saved and restored for the benefit of the people of Christchurch and Canterbury.
  Seek an interim moratorium on demolition of The Majestic from CERA/CCDU to allow for a thorough assessment of the building's potential.
 Commission costings for strengthening and restoration.
 Negotiate with CERA/CCDU to resolve roading issues
 
Thank you
Dr Ian Lochhead, Greg Hynes, Ross Gray
For Historic Places Canterbury /Save The Majestic
5 December 2013
facebook: https://www.facebook.com/SaveTheMajestic
website: http://savethemajestic.weebly.com/