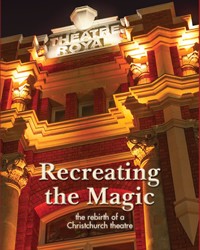 Recreating the Magic: The rebirth of a Christchurch Theatre
Written by Dr Anna Crighton, Liz Grant and Dr Ian Lochhead.
"The story of the restoration and reconstruction of the theatre from the brink of collapse as a result of earthquake damage in 2011 to its triumphant reopening in November 2014, is as dramatic as any production that has taken place on the theatre's stage. The combined skills of architects and engineers, conservators and craftspeople and an army of construction workers have returned an Edwardian theatrical jewel to its former glory while enhancing the experience of audiences and performers alike."
You can purchase a copy at the following link:
http://isaactheatreroyal.co.nz/product/recreating-the-magic-book-3/