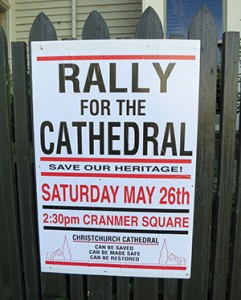 Thousands turn up for the Rally For the Cathedral. Led by Jim Anderton, a number of speakers including Historic Places Aotearoa's President Anna Crighton, asked for a "Pause". The Rally then marched up Montreal and Worcester Streets where they were greeted on the Bridge by the Wizard.
Rally For Cathedral.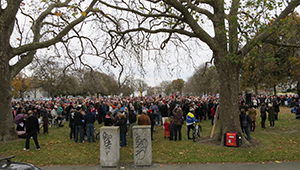 Anna Crighton (President Historic Places Aotearoa) with Barbara Stewart addressing the Rally.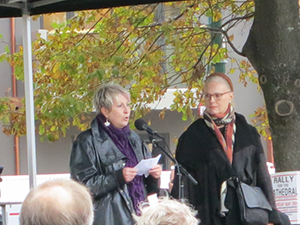 [Previous entry]
Restore Christchurch Cathedral group has made a public call for Christchurch residents to attend the Rally For Cathedral. 75,000 inserts publicising the rally went out in Wednesday's Christchurch Star. A1 posters, billboards, and leaflets are appearing all over the city's arterial routes and markets etc.
Mike Pero is the latest to join a number of public figures including Jim Anderton and Philip Burdon who are campaigning for a "Pause".
The Christchurch City Council has passed a motion asking the Anglican Church for a "Pause".
The Restore Christchurch Cathedral site is here.