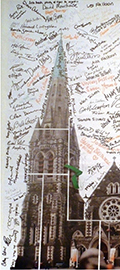 Picnic and Charity Concert
In support of the restoration of ChristChurch Cathedral
Sunday 24th February   4.30pm-8.30pm
Venue:-  Lansdown Homestead & Garden  132 Old Tai Tapu Road
Dress:                                                 Smart summer garden party
Tickets:       $100 per person               Seats limited to 100
Contact for bookings: Rosie Belton   actnow@xtra.co.nz
Picnic and Charity Concert
In support of the restoration of ChristChurch Cathedral
Sunday 24th February   4.30pm-8.30pm
Venue:- Lansdown Homestead & Garden  132 Old Tai Tapu Road
Picnic:   4.30 -6.00pm
Picnic and walks in the historic homestead gardens.
Please bring your own picnic and drinks
Meeting:            6.00 – 6.30pm
Gather on the main lawn to hear a short review of where things are at with the efforts to Save the Cathedral
Performance:    7.00-8.30pm
MOZART'S- Love's Journey Through The Marriage Of Figaro in the Great Hall of Lansdown Homestead
Dress:                                                             Smart summer garden party
Tickets                  $100 per person               Seats limited to 100
Contact for bookings:                                    Rosie Belton     actnow@xtra.co.nz
Bookings may be made by email and paid online, or by cheque made out to Restore ChristChurch Cathedral. If sending a cheque please include your name and contact details. When your booking has been received you will be added to the master list of attendees and when you arrive at the gate please give your name to be admitted.
Payment methods:
Direct Credit to:                Restore Christchurch Cathedral
Contact Rosie Belton for Bank Account Details. actnow@xtra.co.nz
Cheque to:                         PO Box 1683, Christchurch, 8140
Parking:
Off-street in the Homestead's car park.  You will be met at the gate which is situated just before the Rossendale restaurant
In case of rain:
Convene at the house at 6.30pm for the short meeting about the Cathedral. The Charity Concert will still be held at the original time of 7pm. Those who wish to still picnic or walk in the gardens are welcome to do so, but there is no shelter from the elements, so bring an umbrella!
Mozart's:  Love's Journey Through The Marriage of Figaro
Performed By:
Dorothee Jansen -           Soprano
Jan van den Berg-           Violin
Haydn Rawstron -           Continuo and Narrator
Dorothee Jansen:
A renowned German soloist, Dorothee has sung at
La Scala Milan and opera houses in Bologna, Paris, Geneva, Lausanne, Munich, Bremen, Cologne, Bonn, Essen; and at major festivals in Bayreuth, Florence, Montpellier and Ruhrtriennale. Dorothee has also sung Lieder recitals throughout Europe including four in Wigmore Hall, London, Europe's most prestigious recital hall.
Jan van den Berg:
For many years Jan was the concert master of Christchurch Symphony Orchestra and for two decades been a central figure in the city's music making. He previously held such positions in Melbourne, Hong Kong and South Africa.  At the beginning of his career, he was a member of the first violins in one of Europe's top twenty orchestras, the Rotterdam Philharmonic. He is also an experienced chamber musician and has previously given concerts with Dorothee and Haydn in Christchurch, Queenstown, Wanaka and Akaroa.
Haydn Rawstron:
A graduate in music from Oxford University, Haydn was born in Darfield and brought up in Christchurch, where he was a cathedral chorister and assistant organist at ChristChurch Cathedral while he was a student at Christ's College. While still at Christ's, he won the Christopher Tatton Organ Scholarship at Christ Church, Oxford, where he was an undergraduate. Haydn has worked as an international manager for opera singers and conductors for 30 years. He has received the MNZM honour and was one of New Zealand's first Winston Churchill Fellows.
Lansdown:
On the banks of the Halswell River is Lansdown, one of the most interesting heritage properties in Canterbury. Its sheltered woodland garden was established around 1860 by William Guise Brittan, the first person to buy a tract of land (in 1850), from the Canterbury Association. There are many notable trees at Lansdown, some 150 years old and outstanding specimens. In the 1870's, the garden was referred to as 'The Garden of Canterbury'. Its present homestead designed by Heathcote Helmore was built with basalt rock recycled from Brittan's two storied house built on the same site. Lansdown's most famous owner was Sir Edward Stafford, a liberal statesman who was three times elected NZ's premier. Stafford was also keen gardener. Lansdown was bought in 1995 for the John Robert Godley Memorial Trust, and remodelling was undertaken to make a large concert room. Lansdown homestead is now the NZ home of Haydn Rawstron and his wife, Dorothee Jansen. The hidden entrance to the property is immediately on the town-side of Rossendale Restaurant (the oldest part of which was formerly the gatehouse to Lansdown homestead).
Many thanks to Haydn and Dorothee for providing this wonderful concert and venue.
Proceeds of ticket sales will be divided evenly between the Restore ChristChurch Cathedral Campaign, and The Great Buildings of Christchurch Trust
For further information or assistance please call:  Rosie Belton on 027 228 7019