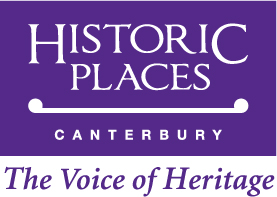 Historic Places Canterbury and IConIC  made a Deputation to the Christchurch City Council's Earthquake Recovery Committee. (The Committee is made up of the Mayor and the full Council.)
Deputation
to the
Earthquake Recovery Committee
of the Christchurch City Council
5th December 2013
Deputation by:
Mark Gerrard, Chair Historic Places Canterbury
Dr Lynne Lochhead, IConIC
Thank you Mayor and Councillors for agreeing for us to make this Deputation to the Earthquake Recovery Committee.
This Deputation covers a number of elements and we have attempted to be succinct and as clear as possible.
Introduction:
Historic Places Canterbury (HPC) is a membership based Heritage NGO that advocates for the retention, preservation and restoration of our Built Heritage. HPC is independent but affiliated to Historic Places Aotearoa. (HPC should not be confused with the New Zealand Historic Places Trust which is a Crown entity.)
IConIC- (Interests in Conserving the Identity of Christchurch) A loose coalition of Central City Heritage/ Character Building Owners and Heritage Advocates.
1. Recovery Programme For Heritage Buildings And Cultural Heritage Places (CERA):
Request the Christchurch City Council, as a partner, actively seek for the immediate release of much delayed and "over consulted" Recovery Programme For Heritage Buildings And Cultural Heritage Places.
Background Abridged Timeline:
"Draft Recovery Strategy for Greater Christchurch" Built Heritage Recovery Plan:
"When? Scope of plan approved by Minister for Canterbury Earthquake Recovery by October 2011."
The Ministry of Culture and Heritage (MCH) were tasked with developing the documentation.
December 2011: MCH Draft Heritage Recovery Policy Statement circulated to a limited number of recipients for comment.
Early 2012: MCH delegation appeared before the CCC Heritage and Arts Committee re Recovery Programme For Heritage Buildings And Cultural Heritage Places.
19 July 2012: Meeting of HPC, Civic Trust and IConIC representatives with Cera CEO Roger Sutton: In answer to a question re CERA Heritage Policy Roger Sutton was informed by some CERA Staff present that the policy was under consultation.
Recovery Programme For Heritage Buildings And Cultural Heritage Places last Draft on MCH web site  draft dated:10/05/12.
The Heritage Recovery Programme is going through yet further consultation with a "very" provisional release date of March 2014!
2. The Christchurch Town Hall:
Request the Christchurch City Council's "Town Hall Project Team" and the Council's Heritage Team extensively Consult / Brief with the Heritage Advocates (Professional and NGO) throughout the whole period of planning / formulation of the programme through to the physical Restoration of the Christchurch Town Hall.
Comment: The Town Hall is a listed building whose internal features, finishes, murals etc  and interior design are an integral part of its heritage and cultural importance. HPC considers that the Heritage advocates being consulted / briefed throughout the Town Hall's restoration, as your Heritage partners, is a more efficient use of time and resources. Any potential heritage issues would be identified early on and not at the mid and/or end stages of restoration process and thus save resources and time. HPC notes the C.C.C. is a signatory of ICOMOS and is obligated to follow international heritage best practice for such an important international project as the Town Hall restoration.
3. Request that the Christchurch City Council seek the active participation of the Christchurch Heritage Advocates as Stakeholders and Heritage Partners in any CCC Heritage workshops and briefings.
Comment: Last year the Heritage Advocates were invited to attend a Councillor Workshop on CERA's use of Section 38s was covered. It was very useful and the Heritage Advocates would welcome more opportunities to be involved.
4. CERA and the use of Section 38s.
Request the Christchurch City Council independently review the circumstances of the current Section 38 notices and the issuing of new notices by CERA.
Request that the Christchurch City Council use its extensive political leverage as Civic Leaders to influence the Minister and CERA to directly involve the public in consultation in the issuing of Section 38 notices.
Comment: The Christchurch Residents are removed from being involved in decisions that effect listed Heritage Buildings. Until a Section 38 is published, the Heritage Advocates / concerned citizens we rely on rumour / gossip for information as those only formally involved are CERA, the building owner, CCC Heritage Staff and NZHPT. HPC is aware that owners are seeking Section 38 notices, to facilitate demolition, as a development tool to avoid the RMA process, which is contrary to the original intention of the CER Act.
5. The Christchurch Cathedral:
Request the Christchurch City Council actively seek to ensure the retention and restoration of the iconic Christchurch Cathedral.
6. Thank the Christchurch City Council for holding the "Reconnect" Heritage Event. Request the Christchurch City Council pass on our "Thanks" to the Council's Heritage Staff who organised and ran the successful "Reconnect" event. Further to this we request the NZHPT Staff involved in the event also be "Thanked".
Mark Gerrard
Chair Historic Places Canterbury