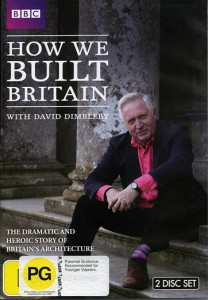 Breathtaking camerawork makes this BBC Doco "How We Built Britain" a visual feast. David Dimbleby  travels across the UK exploring, chronologically, heritage buildings that reflect the society and time in which they were built.
Highlight- David Dimbleby walking in the roof cavity on the legendary gothic fan ceiling of Christ's College Cambridge!
The time frame covered is from 1065 to modern times.
"How We Built Britain" is a six episode two DVD from the BBC. Available locally with some local online stockists priced from $(NZ) 35.99.
As you would expect with a BBC documentary there is  an accompanying book available for  purchase.
"How We Built Britain"
Publisher Bloomsbury Publishing Plc
: 9780747588719