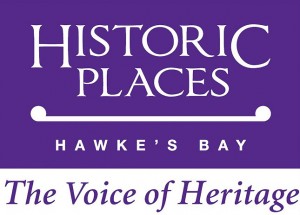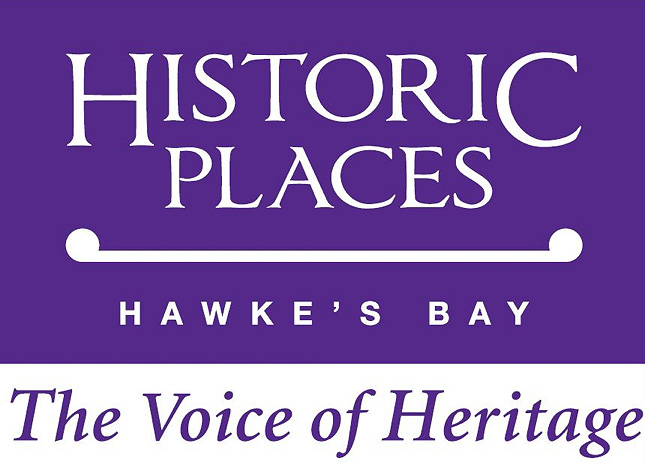 Historic Places Hawke's Bay Inc
Chairman's Report for the Year Ended 30 June 2013 Presented at the
Society's AGM on Sunday 8th September 2013 at Stoneycroft
I have pleasure in presenting the first annual report of Historic Places Hawke's Bay Inc.
Formation of Our Society:  Historic Places Hawke's Bay was set up following the disestablishment of the Hawke's Bay Branch Committee of New Zealand Historic Places Trust   under the terms of the Heritage New Zealand Bill currently before Parliament. The Branch Committee had been in operation for 55 years.  Historic Places Hawke's Bay Inc was officially launched by Napier Mayor, Barbara Arnott in November last year at a well attended ceremony in Napier. Historic Places Hawke's Bay covers Napier City and the Wairoa, Hastings and CHB Districts.
Given that our society commenced operation with only a handful of financial members the previous Hawke's Bay Branch Committee of NZ Historic Places Trust resolved to guide the society through its first year as a self-appointed interim committee.  The election of officers today will therefore be the first opportunity to officially elect a committee under the terms of our constitution.
One important decision we made as the interim committee was to affiliate with Historic Places Aotearoa.  This is the new national heritage organisation which acts as an umbrella group for new local heritage societies completely independent of NZ Historic Places Trust.  Affiliation with HPA has provided contact with other local societies, specialist advice on heritage matters, the use of the HPA website and the opportunity to collectively participate in submissions on current legislation, including the Heritage New Zealand Bill, the Supplementary Order Paper to the Bill and amendments to the Building Act.
Committee:  The committee has maintained a monthly meeting routine in the Napier Hastings area at various venues.  We are grateful to the Napier City Council and Hawke's Bay Regional Council for providing venues for some meetings.
We were very sorry to lose our Napier City Council representative Cr Tanya Wright who withdrew for health reasons.  Cr Mark Herbert has taken her place on the committee. Crs Rod Heaps and Sally Butler continue to represent the Hastings and CHB Districts respectively.
Strategic Planning:  The committee spent a day in May planning the future direction of the new society.  The number one priority was seen as building membership and the associated publicity required to achieve this.  We also agreed that the most important activities for the society will be organizing activities for members, working on local research, participating in formal advocacy such as submissions to local councils and generally working to raise awareness of heritage issues.
Activities:  The committee has been very conscious that the effort required to establish a new organisation has tended to reduce the capacity of our group to organise activities for members.
However, the launch of Historic Places Hawke's Bay Inc was preceded by a well supported walk led by Robert McGregor to look at adaptive re use of a number of heritage buildings in Napier. The launch programme included addresses from Dr Anna Crighton, President of Historic Places Aotearoa and architect James Blackburn a member of the HPA Executive on earthquake recovery in their cities of Christchurch and Gisborne.
We held an awards ceremony in December to honour the work of past members of the Hawke's Bay Branch Committee of NZ Historic Places Trust. Awards included life memberships conferred on past chairpersons, Lily Baker and Guy Natusch.
In April we ran a trip to Waimarama and Hakikino led by local Kaumatua Robert MacDonald and Committee member Rose Mohi.  Another successful trip in spite of a rather dismal day.
Membership:  At the end of the financial year membership had climbed to 45.  While membership continues to grow there is still a long way to go to make our society a financially viable organisation.  We also have a mailing list of over 100 people wanting to be kept informed of upcoming activities.  We hope these people will eventually join our society.  We are grateful to Duart House, Friends of the Museum and the Art Deco Trust for providing advance publicity of our activities.
Formal Advocacy:  In recent years, as New Zealand Historic Places Branch Committees, we were not permitted to speak out on local issues under the terms of the Trust's Crown Entity status.  We are no longer hampered by this restriction and Historic Places Hawke's Bay has already made submissions to the Hastings District Council relating to the Civic Square redevelopment, on possible developments at Ocean Beach and to the Annual Plan seeking funding for signs to mark historic places in the Hastings District.  As a result of this last submission two signs were approved for the current year and work on these is proceeding.
Threatened Buildings:  We were caught on the hop by the demolition of the former Caledonian Hotel in Napier which happened to coincide with the establishment of our new society.  The building had no statutory protection and, as it turned out, was in a far worse structural state than initially thought, so the loss of this building was probably inevitable.  The Albert Hotel in Hastings is due for demolition in the near future, but, on the bright side, according to recent publicity, the owner intends to include some record of the building in the plans he has for the site.  On the other hand we wish to congratulate the owners of the Napier Post Office Building on their decision to strengthen the existing building.  Similarly we provided a letter of support for a funding application by the Hastings District Community Arts Trust to allow strengthening of their premises, Harvey's Building in Hastings.
Three members of the Committee visited the now disused Te Urewera National Park Visitor Centre, at Aniwaniwa, designed by John Scott, which, in spite of recent registration by NZHPT, is also under threat and currently suffering from severe neglect.  We had hoped that this building could be a focal point for a future bus trip but it now appears that group entry would be difficult on OSH grounds.
Some time ago our group discussed the preservation of the oak trees that were planted at the entrance to the former Tomoana Freezing Works to commemorate staff members killed during World War I.  We have been pleased to offer any necessary help with the project to the group in Hastings that has been working on identifying, and finding information about, all those who are commemorated and are seeking to gain protection for the remaining trees.
With some help from Historic Places Aotearoa, the committee is working to keep abreast of the many issues that threaten earthquake-prone buildings and to work toward possible remedies for their future survival.
Newsletters:  We managed to produce one newsletter during this first year but Editor, Robert McGregor has set a high standard for this publication by our new society.  We hope to produce a newsletter more frequently in future. We are aiming to distribute  newsletters and any other information to as many members as possible by e-mail as a means of containing the cost of colour printing and distribution. We are seeking contributors of news and other items of historical interest, particularly from Wairoa and Central Hawke's Bay.
Thanks: My sincere thanks to the members of the committee who have all worked hard to get our new society off the ground and to members who have provided essential financial support and feedback.
Denis Pilkington
Chairman