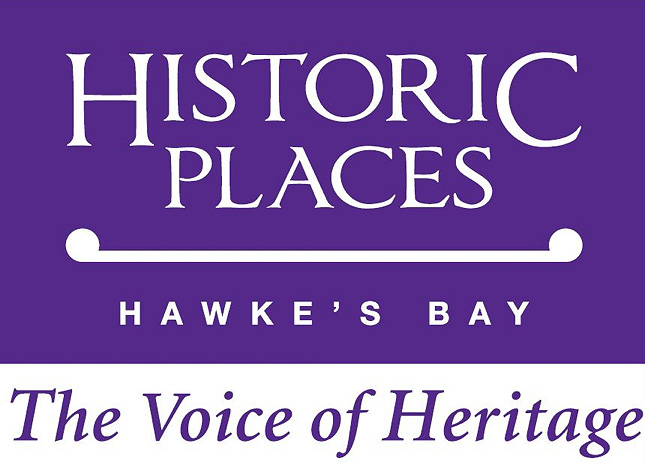 Chairman's Report for the Year Ended 30th June 2014
I am pleased to present the second Annual Report for Historic Places Hawke's Bay Inc which covers our first full year of operation under the new banner after our society was first formed in November 2012.
Committee: The committee was first formally elected at last year's AGM following an informal interim arrangement. The committee has continued to meet on a monthly basis at various venues in the Napier and Hastings area. We are grateful to Mark Herbert for providing a meeting room at the East Pier where most of our meetings were held and to Napier City Council, DoC and Spicers Portfolio Management Ltd who also provided meeting venues in Napier and Havelock North.
Jenny McIvor Joined the committee following the AGM, Cr Mark Herbert, our Napier City Council Representative was replaced by Cr Annette Brosnan following the local body elections and Rod Heaps and Sally Butler continue to represent the Hastings and Central Hawke's Bay District Councils respectively. We were sorry to lose Sue Dick who resigned from the committee during the year.
Membership: The society was first formed in November 2012 with a handful of members, so building the membership has remained a major priority as we rely on membership subscriptions to finance our day to day operations. We reported a membership of 45 at the last AGM. Following a number of mailouts to potential members we now have 105 memberships, including 29 family memberships involving additional people. We are certainly very happy with the additional membership support. We also have about the same number of people on our non member mailing list. These people receive notices of forthcoming events, but not the full newsletter and they pay a higher price for society activities. We hope that many of these people will eventually become financial members of the society.
Newsletters: We circulated two newsletters during the year which were well received and were are grateful to the Art Deco Trust for providing colour printing of newsletters at a reasonable cost to send to members without e-mail. The society's brochure was also updated during the year to provide a quick insight to our activities. The updated version is about to be posted on the website.
There is a significant cost attached to printing and mailing so we are keen to ciculate our written communications by   e-mail wherever possible.
The Website: We benefit from the use of the Historic Places Aotearoa website which, along with national heritage news, includes a section on Hawke's Bay. We use this web page for notices of forthcoming events and general news about historic places in Hawke's Bay. A brief history of the Napier Beacons was also posted in May following an earlier posting on Main Street in Napier and postings of other local histories are planned.
Membership Activities: We ran a well supported bus trip to Central Hawke's Bay in November.
A film evening run in May in conjunction with MTG at the Century Theatre in Napier was first for us. While it was a successful evening the participation by our own members was reasonably limited. However it is an activity which may repeat next year.
An afternoon at Keirunga Gardens where Georgina White highlighted the history of Dr Robert Felkin and the Havelock Work finally took place in early July just after the close to the financial year. Following the success of the last AGM at Stoneycroft we thought that the concept of providing a local history talk at an historic venue was a simple model that could be used between the more comprehensive full day bus trips.
We are very aware that providing interesting activities for members is a key factor in maintaining and growing our membership. As we continue to plan activities we remain open to suggestions from members on what these might be in the future.
Interpretive Signs: Placing signs at historic sites is an ongoing activity and this year we erected a sign on the site of the Napier Technical College which was destroyed in the 1931 earthquake and not rebuilt. This project was carried out in conjunction with Phillip Rankin, the Napier Boys High School Archivist. We were also most grateful to receive funding assistance from Phillip Rankin, the Napier Boys High School Association, Robert McGregor , Stewart Nash, and the Napier City Council. We held a successful unveiling in May involving the Napier Mayor, Bill Dalton, Philip Rankin, the Napier Technical Memorial Band and two Technical College old pupils who had survived the collapse of the building.
We also have funding available from the Hastings District Council to erect two signs. It is disappointing to report that work on the first sign at Duart House has been slow and the project is still progressing into the next year.
The committee has continued to work on a photographic inventory of signs and plaques of historic interest in the Napier and Hastings areas. This work will probably lead to some form of publication
Princess Sarah's Grave: The committee was represented at the unveiling of the refurbished grave in Maraekakaho Road near the Sileni Estates Winery, in May which was well publicised at the time. While we were not directly involved we had actively encouraged Heritage New Zealand to complete the project after seven years of preparation.
Riverslea Stables: We met with the current owners of Thomas Tanner's Riverslea Stables In Flanders Road near Havelock North to discuss preservation and renovation which we referred to Heritage New Zealand . The Stables have a Category II entry on the New Zealand Heritage List and would be an interesting site to visit on a future bus trip.
Heritage Advocacy: We made formal submissions to the Napier City Annual Plan seeking annual project funding in Napier and asking for historical aerial Photographs of Napier to be included in the Geographical Information System (GIS) section of the Council website. Annual project funding of $500 was approved and the council have taken the first steps towards including older aerial photos in their GIS system. The 1936 photos can now be viewed on computer screens in The City Council Planning Department and the 1999 and 2004 aerial photos have been added to the website.
We also submitted on a resource consent application to erect a large apartment building next to the former Soldiers Club Building on the Marine Parade in Napier. The latter submission was heard by a commissioner in early July. We sought to lock in proposed restoration to the Soldiers Club building including making good demolition of a later addition to the building. The application was subsequently declined by the Commissioner and has since gone to appeal in the Environment Court.
We have been in contact with the Todd Property Group about the redevelopment of the Napier Hospital site. Along with the Art Deco Trust we are encouraging them to incorporate an Inner Harbour lookout site in the redevelopment. We have also received support from Napier Mayor, Bill Dalton in promoting this proposal. We are also asking for the names of the hospital wards to be used for any new streets or high rise buildings.
Historic Places Aotearoa:  When our local branch committee of NZ Historic Places Trust was disestablished in 2012 under the terms of the Heritage New Zealand Bill we elected to affiliate to the new national heritage organisation, Historic Places Aotearoa. Growth of the new organisation has been slow which has resulted in internal review of HPA leading to a national workshop to discuss membership growth due to be held in early July. Proposed changes to our rules relating to membership following the workshop are due to be considered at our AGM.
New Zealand Historic Places Trust: Following the final Passage of the Heritage New Zealand Act in May, over four years after it was first announced, the Trust is now known as Heritage New Zealand. We subsequently received the Government transition grant of $3500 which was first promised in 2010. The grant will be useful for covering additional costs that were incurred in setting up our new society in 2012
Thanks: I wish to thank the committee for their continuing work in developing our new heritage society in Hawke's Bay. We are also very grateful to members whose subscriptions have provided our operating income and we look forward to continuing to offer activities for the interest of our members.
Denis Pilkington
Chairman
7.9.14