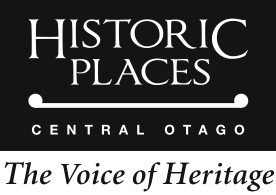 Chairman's Report for year ending 2013
I can report that our first full year has been a very rewarding one with a mix of heritage business and tour activities and heritage advocacy, with additional input into our national organisation Historic Places Aotearoa.
HPA through its membership has facilitated 6 regional societies in Wellington, Canterbury, Hawkes Bay, Mid Canterbury and Taiarawhiti (Gisborne Region) plus ourselves in Central Otago.  HPA has an executive of six and we meet mostly in Christchurch or by conference calls and lots of emails.
The incorporation of Historic Places Central Otago from an HPT branch committee officially commenced on 1 July 2012 with 15 member/signatories.  We have now increased that membership to 30 paid memberships covering 40 heritage enthusiasts.  To have continuing 100% year on year paid membership increases would be very desirable, so please sign up as a member whenever you feel the urge.  Nationally HPA has a membership of 300 paid memberships covering about 400 people.
In August 2012, Jeni and I representing HPCO attended the HPA launch officiated by His Excellency, Lt Gen, Rt Hon, Sir Jerry Mateparae at Government House.  This was an excellent opportunity to meet other regional society members and enjoy a memorable occasion.
HPCO also made 3 submissions to the Heritage NZ Pouhere Toanga Bill Select Committee and I spoke to a committee hearing in Christchurch during August last year.
Whilst we have physically separated from NZ Historic Places Trust, we have in many ways established stronger links than in years past, and we trust that this will continue as evidenced by the attendance today of the Chairperson of the NZHPT Board, Shonagh Kenderdine.  The "old" HPT Central Otago Branch Committee members were presented with Certificates of Appreciation for their past work for HPT by NZHPT's Otago/Southland Regional Manager, Owen Graham.  We attended the farewell of Owen two weeks ago as he vacates his role with NZHPT for a new position with Contact Energy.
The HPCO committee of 9 members have attended 10 meetings throughout the year, organised 2 full day heritage tours and a 2 day stonemason's course.  I would like to record my thanks to the committee for their very dedicated commitment to establishing a new organisation and getting us to the position we are at now. Setting up involved registering a constitution with Incorporated Societies, organizing banking, monthly and annual accounts, logo, meeting venues, minute recording etc.  and the list goes on.
We held our first AGM in September 2012 at Olivers with a very solid turnout of 47 and a very successful meeting and tour of Olivers in all its glory. It was so successful we decided to repeat that today and check out the progress at Olivers over the last 12 months.
In October 2012 we had an all day heritage tour to the Naseby region starting with coffee at Pitches heritage cafe at Ophir, Moa Creek cemetery, Naseby museum and heritage precinct, Kyeburn cemetery, and a bit of fashion at the Hore museum.
In April 2013 we held our 2nd all day heritage tour of the year in the Roxburgh region with a varied mix of gold sites and dredges, power station, stone cottages old wooden clad bakeries and ovens, a church, stone farmyards and woolshed, railway shed and station, historic cemetery, and some gold panning at the end with good colour.  Particular thanks to Stuart Edgecumbe from Roxburgh for his coordination of the heritage tour sites.  It was an action packed day with lots of things to see.  Our tours are generally geared to include visits to sites that are not normally available or out of the way for the general public.
In May Nick Taylor and Keith Hinds ran a very successful stonemason's course at Nicks restoration properties at Butlers Farm at Fruitlands.  Whilst the weather was crisp, it was a dry, sunny and enlightening weekend with good food and plenty of stonework.
We plan to carry on this concept when a suitable property is available to be worked upon.
Whilst our funds are very minimal, ongoing revenue is by a 70% reimbursement of your subscriptions to HPA remitted back to Historic Places Central Otago.  As the Dilmah ad states  "do try it and do join us".  We need the money.  As you have heard from our treasurer we were seed funded by HPT to the tune of $3743  with a further $3500 to be granted to us on the passing of the Heritage NZPT Bill currently before parliament.
In spite of our delicate funds we made a donation of $250 to the NZHPT appeal for the restoration of the Clifden Suspension Bridge in Southland.
We also made a $500 donation to the Central Otago Heritage Trust reinforcing the commitment we have as one of the participating organisations that make up the Trust.
The Central Otago Heritage Trust has become the coordinator for the implementation of a heritage strategy for Central Otago and this follows on from the Council led community consultation process on the future of heritage and the resulting document 'Better Heritage Outcomes'.
The heritage strategy underpins our longer term heritage goals as an organisation. Within the COHT's  five year plan we have been requested to take on the future role of overseeing the procedures and processes for heritage and in particular Schedule 19.4 of the District Plan.  This needs some careful thought and input as it is a lengthy project but one that will hopefully see heritage better conserved for future generations.  This fits in to our commitment to heritage and we will need to work closely with HPT, CODC  and others in this regard.
In the last year we have been able to publicly comment on the proposed Bannockburn Hall demolition and initiate views directly with CODC as to why the hall should be re-reviewed from an engineering perspective.  This review process has now been initiated by CODC for RFP's and tendering out to suitable engineers and we regard this as appropriate at this point pending any further developments.
At our committee meetings we constantly consider potential projects and we will process these when we are able both from a time and financial perspective.  We are only volunteers with goodwill for heritage.
I would like to acknowledge the resignation of Brian Croot our treasurer for the past 3 years who has moved with his wife Mavoura to Winton to be nearer family.  They have made a great contribution to the organisation.  We are also losing Mike Rooney as a committee member and thank him for his contribution over the years.  As for the rest of us we look forward to another year of heritage activity along with your support for the projects we undertake.
I propose my report for adoption
David White - Sept 2013