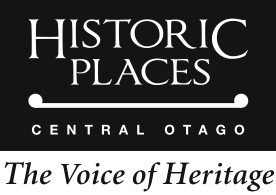 Dear Heritage Enthusiast
On behalf of Historic Places Central Otago, I have great pleasure in inviting you to our
inaugural Annual General Meeting to be held at
Olivers in Clyde on Saturday September 15 at 2pm
The format for the afternoon is to hold our first gathering of Heritage enthusiasts under the new organisation's name, conduct the HPCO - AGM business and then enjoy a genuinely homemade afternoon tea.
We will then be in the hands of David and Andy Ritchie who will let us into their
World of Heritage with a guided tour of the entire Olivers complex including the large barn
which is about to undergo a major adaptive reuse as a splendid home.
David and Andy have already completed extensive restoration of the accommodation part of Olivers
and we will hear first hand their plans for the previous Restaurant, Kitchen, a new Café area and the courtyard complex.  This is a truly Grand Design for Olivers.
Historic Places Central Otago is the new Regional Society that replaces the former Central Otago Branch Committee of Historic Places Trust.  We have a new lease of life, with a new name, a new identity and hopefully you will want to join us as a new member and help us achieve better heritage outcomes.
We have worked very hard over the last 12 months to establish this new organisation and we need your support both now and in the future.
We will continue to fight for the protection of Heritage in its many facets and bring more participation in the form of Heritage Tours (next one is Sunday October 14), field days and other events.
We have re-established stronger working relationships with Historic Places Trust and other Heritage
organisations with the objective of better Heritage protection.
More on this at the AGM!!
If you want to become a member of Historic Places Central Otago please log on to:   www.historicplacesaotearoa.org.nz
For any further information Contact:
David White - Acting Chairman
Historic Places Central Otago Inc.