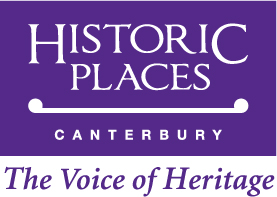 Historic Places Canterbury Chair: Mark Gerrard
If you have an issue or concern, you are welcome to contact Mark.
Tel: 03 365 4448
Email: canty@historicplacesaotearoa.org.nz
The Historic Places Canterbury's newsletter is called "Lintel".
It is emailed to members and usually appears every 2 or 3 months.
This  Historic Places Canterbury Page  is kept up to date and it is where you will find a lot of information.
The Historic Places Canterbury Committee:
The Committee usually meets fortnightly on a Wednesday at 7.30 pm.
Members are encouraged to attend the Committee Meetings and raise issues that are of concern and be part of the discussion.
Want to get involved, have some fun and make a difference!
You are most welcome to come along to a Committee Meeting!

What does Historic Canterbury Places do?
We are an independent body that advocates for the preservation and protection of (built) Heritage.
Currently our efforts are spent lobbying Central Govt., M.P.s, City Councillors, CERA, Building Owners, preparing Submissions and Deputations, organising public meetings & rallies, letters to the editor, Media Releases, liaising with other groups / individuals and any related  activities to ensure the retention of our Built Heritage is a priority.
As well as the above we are organising Member's Events to celebrate our Heritage!!!
What is Historic Places Canterbury?
Historic Places Canterbury is an independent society that is affiliated to Historic Places Aotearoa.
Historic Places Aotearoa is a new Heritage NGO. (Explanation here.)
The New Zealand Historic Places Canterbury Branch transitioned to Historic Places Canterbury (Inc) in anticipation of the NZHPT Bill currently before Parliament.
Why happens to the Subscription money I pay to Historic Places Aotearoa?
Most of the money is forwarded to Historic Places Canterbury.
[Historic Places Aotearoa keep a small amount for Administration and this Web Site.]
Thus far we have used the monies to fund Public Meetings and Public Rallies,  donations for legal opinions and related expenditure.
Monies received are spent to save Heritage!!!
Previous Members Events:
Email: canty@historicplacesaotearoa.org.nz if you have not received an email copy.

Our Next Historic Places Canterbury Members Event-
"The Woodford Q & A"
5.30- 7.00 pm
27th March. (Note the date has been revised.)
Members will be notified by email.