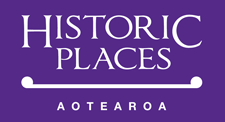 Patron: Dame Anne Salmond, DBR, FRSNZ, FBA
President's Update for 2012

In February 2010, when the government announced that a review of the Historic Places Act would include the disestablishment of branch committees and elected representatives, a ripple of disquiet, and in some places anger, went through the heritage volunteer sector. A meeting of Branch representatives was held in Wellington later in July 2010 with the main objective to decide on a future for these disestablished branches. An Executive was formed to drive a replacement national structure – this national organisation is now known as Historic Places Aotearoa (HPA). Two years on, Historic Places Aotearoa, a non‐government organisation, has become well established, and currently has the support of six regional societies (Central Otago, Mid Canterbury, Canterbury, Wellington, Hawke's Bay and Tairawhiti) with more to come, as well as a growing membership.
Historic Places Aotearoa attracts the support of the 'eyes and ears' of those hundreds of volunteers throughout New Zealand which may have been lost through the disestablishment of the HPT Branches. A strong local voice to advocate for vulnerable heritage was immediate and necessary ‐ not just from the devastation of earthquakes and other acts of nature but also from man‐made destruction through inappropriate development.
The official launch of Historic Places Aotearoa by the Governor‐General, Lt Gen The Rt Hon Sir Jerry Mateparae, took place at Government House, Wellington on 14 August 2012. It signalled a turning point for New Zealand's heritage and marks a new beginning for local advocacy. The opportunity for communities to be more active in having a voice in preserving their heritage for future generations is a return to the original spirit of heritage protection in New Zealand. After a welcome from the Governor‐General to the many guests, Dame Anne Salmond, our Patron, gave an excellent speech followed by one from HPA President, Dr Anna Crighton. This historic event was well attended by many new members from Wellington and around the country.
And, yes, history does repeat itself. With the launch of Historic Places Aotearoa we are going back to the future, back to the grassroots of people power through our membership, membership in the regions, without fear or favour, supporting and advocating heritage protection and promotion throughout New Zealand. The executive has been meeting on a regular two monthly basis since the last AGM. Except for the last meeting, which was held in Wellington prior to the launch of HPA, all meetings have been held in Christchurch. Meetings have generally run from 10am to 4pm to suit attendees travel arrangements. The meetings have been very productive in all cases with the business of HPA being pushed through with rigorous discussion and due consideration.
The executive looked carefully at the membership subscription level and was conscious that this should not be set too high yet it was imperative that funds were required to keep the organisation running. It is expected that the life membership subscription be raised bi‐annually to recognise the value of the organisation. How subscriptions were split between the national and regional societies was a matter for much discussion but we felt that initially the end result of 70% to the regions and 30% to HPA was fair to all parties.
The website was seen as a significant part of the organisation's initial setup. For the future this will be the main form of communication with the members and the public. To be relevant it is important that information is regularly added to the site to keep members and the public engaged. Application for membership is now displayed on the website in three forms – by cheque, by direct credit and through the PayPal membership payment system.
HPA made a submission to the Parliamentary Select Committee dealing with the new legislation and also appeared before that Committee at a hearing in Christchurch. The two key concerns expressed by HPA related to the apparent intention of NZHPT to retain the membership despite the abolition of their branch committees and Board representation, and to restrictions on the use of the name  which the members have also operated for over 50 years. The report of the Select Committee is awaited.
We have established a trademarked logo that expresses our national identity as Historic Places Aotearoa and positions our raison d'être as "The Voice of Heritage for New Zealand". This was developed to capitalise on the Minister for Arts, Culture and Heritage's desire for a new organisation being a voice for local heritage advocacy and to keep a watching brief on heritage nationally. At a local level the logo clearly identifies the Regional Society and is 'The Voice of Heritage' for that region.
Marketing and promotion of the HPA has been restricted by lack of funds and the setting up of systems to cope with membership payment, recording and response. The regional Societies play a vital role in communicating with HPA members once they have joined and cooperation with HPA nationally is a pre requisite to our success. We are currently looking at membership benefits with possible heritage accommodation discounts, a member's card, and reciprocal deals/special entry discounts with other overseas heritage organisations. These will take time to establish but Rome wasn't built in a day. In spite of all the work done to date there is a lot we still need to do in relation to marketing and promotion of the new organisation both at a National and Regional level.
In the coming year a major focus for the organisation is to grow the membership and to look at promotional, funding and sponsorship opportunities. This will link into the organisation's business plan, which will need to be updated and refined.
After more than two years of work we have taken this organisation from an idea to a reality – and 2013 will be a challenging year!
Thank you, as members, for your continuing support.
Dr Anna Crighton QSO JP PhD
President
31 December 2012