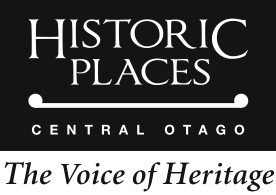 Dear All
I  invite you to our Heritage tour of Roxburgh and Millers Flat region on Sunday 14 April commencing 9am
BYO lunch and some warm clothing just in case.
No need for 4WD this time although we are going on good shingle roads up to the stone sheep yards but well worth the view.
We look forward to your participation
David White
Chairman Historic Places Central Otago Inc.
P O Box 192 Cromwell 9342
03 445 4777 or 021 359 792
Log on to  www.historicplacesaotearoa.org.nz
for regular updates about H.P.A.
Details of Tour: An Invitation to join Historic Places Central Otago on a tour of some of the-website_invite (pdf download)
An Invitation to join Historic Places Central Otago on a tour of some of the
rich heritage in the Roxburgh and Millers Flat region.
Tour starts at 9am at the CODC Service Centre 120 Scotland St in Roxburgh
Cost is $10 per person
This tour is guided by Stuart Edgecumbe of Roxburgh
On behalf of the committee of Historic Places Central Otago we welcome you to attend a guided tour of the Roxburgh and Millers Flat region.
This area is often overlooked as a rich area of heritage to visit, and with this in mind we will visit a diverse range of heritage sites and buildings.
We start at Roxburgh and visit the 'Kohinoor' steam gold dredge which is located in its original site where it sank in the Clutha River after self destructing with its own dredge bucket. We also visit Crossan's cottage (1867) which is now in a very precarious state. Do not enter.
The Teviot Power station operated as power station from 1924 being developed from the water races left by the miners. It is still operative. Car park before the Station and it's a very easy but spectacular short walk to the site. Dropping down
the hill from the Power station you can see the two old sets of bridge piers alongside the current bridge crossing the Clutha.
On the way to the old Roxburgh Railway station we pass a coopered wooden water tower still holding its water for spraying and fire emergency. The old station is still in use as a woolshed but the remains of 'how it was' still very apparent from the old waiting room fireplaces to the ticket windows etc. Further on at Hercules Flat on your left there are 3 stone walled/supported water races belonging to different mining claims.
Also on the left buried in trees are the remains of the "Gold Baron" John Ewing's house.
We will have an early lunch at Pinder's Pond, which has its own gold history displayed on interpretation panels. There is a toilet at this location.
We now head towards Millers Flat and open farmland and the old Teviot Railway shed on the left with its loading platform still in place. This would have served the vast farming empire of Teviot Station for many years.
We turn left to the magnificent ruins of the Teviot Woolshed (1865). This is a Category 1 registered Historic Places Trust site.
We then take a very scenic detour up to the top of 'Kirribilli', which was divided from the Teviot Station as a rehabilitation farm after WW1. The original stone sheep yards (1880's) are a magnificent piece of stonemasonry with rounded
corners and a wide base for strength to resist animal pressure. They are still very much in use today connected to a more recent, but still old, woolshed. The shearing machine's old belt drive and pulleys are still in use. Take warm clothing for this leg of the tour as we are at about (1200 metres) 4000ft elevation and its cool up there -­‐ believe me! The return downhill provides magnificent views of
the Teviot valley and I am told "that on a clear day you can see Stewart Island".
We return to Millers Flat and then go inside St Johns Anglican Church (1913). I understand the church is soon to be up for sale.
Next we park at Millers Flat car park and there are interpretation panels on the ferry and hotel that operated here. We also have a guided tour by curator Betty Adams of the Old Bakery and Café (until 1944). There is an appeal for funds to
restore the bakery.
Heading back to Roxburgh East and Ladysmith Road we visit the very well kept Cemetery which has both historic and present day connections. There are Chinese graves and headstones and also graves of the Snow Storm victims of the
1860's. For genealogists a large display has listed all the names and locations of those buried here.
The area directly opposite is very rich in alluvial gold and our tour guide will show us his panning operation and for those that wish to try their luck, Stuart will conduct lessons in gold panning for a $10 fee. He does, however, almost guarantee gold with every panning session and the gold is easy to see without magnifying glasses on!!
There is also the Wilson and Party's claim down the road for those that wish to explore the undisturbed outwash channels, stacked rocks and tailings in the woods close to the Clutha -­‐ a pleasant finale to a very interesting and comprehensive tour.
E & OE
DavidWhite

To register your attendance, or if you require further information about
any aspects of the tour please contact:
DavidWhite – Chairman, Historic Places Central Otago
dwhite.goodies@clear.net.nz or 03 445 4777
Previous website posting:
Heritage Tour to Roxburgh in April – Advance Notice
Heritage Tour to Roxburgh in April – advance notice
We are planning another heritage tour, this time to the Roxburgh region to look at some heritage sites and gold sites that are not normally on the heritage trail.
This tour is still at the planning stage but pencil in Sunday April 14
More details in the next 2 weeks
Become a member of Historic Places Aotearoa and enjoy the benefits of being one of the team of heritage
enthusiasts at Historic Places Central Otago.   For membership details of HPA Log on to:   www.historicplacesaotearoa.org.nz
OR contact
David White
Chairman
Historic Places Central Otago Inc.
P O Box 192 Cromwell 9342
03 445 4777 or 021 359 792