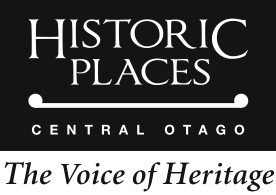 The Historic Places Central Otago submission for The Heritage New Zealand Pouhere Taonga Bill - Supplementary Order Paper 135 is as follows.
Historic Places Central Otago Inc.
C/- PO Box 192
CROMWELL
Central Otago 9384             
27 November 2012
The Local Government and Environment Select Committee
Parliament Buildings
WELLINGTON
Submission on Heritage NZ Pouhere Taonga Bill  SOP 135
I write on behalf of the newly formed body, Historic Places Central Otago Inc., which is one of the Regional Societies under the umbrella of Historic Places Aoteroa. We have a membership of some 30 people in Central Otago and have already made a submission on the Heritage NZ Pouhere Taonga Bill (Heritage NZ Bill) which is due to replace the Historic Places Act, 1993 (HPA).
We are concerned that a great opportunity to improve and strengthen the heritage protection provisions of the HPA 1993, particularly with regard to the protection of Category 1 and 2 Historic Places and Areas is in danger of being missed. We are aware that Territorial Local Authorities (TLAs) are required to "have particular regard to" the Registration of such places, notably in the RMA decision making process, but we strongly believe that real, enforceable, legal protection for such valuable heritage is required.
We now believe that further loss of protection for heritage may occur if certain provisions of SOP135 are approved. We therefore comment on the relevant clauses in SOP 135 as follows:-
Clause 63: We note that one of the purposes of the present HPA is to "Assist historic places to be protected under the RMA". We are disappointed that the Heritage NZ Bill does not state that such heritage should be legally protected, but instead replaces the former Register with a Record of historic places whose third purpose is stated "to be a source of information about historic places……." We submit that the wording of this clause should have been designed to strengthen the protection of Category 1 and 2 historic places and areas. We also submit that it is most important that TLAs MUST be required to act on the protection of Category 1 and 2 listed historic places and areas, rather than simply being required to "have particular regard to" their Registration or Recording (Clause 75).
Clauses 64A and 64B: The requirement to appoint expert assessors where an entry is proposed by Heritage NZ may or may not be a good thing. As the Council must have regard to the assessors' recommendations it will depend entirely on the quality of advice provided by the assessor(s).    
Clause 67:  We do not believe it helps the protection of heritage to widen the scope of who can make a submission on an application for inclusion in the Record. We submit that those eligible to make submissions should remain the same as in the HPA.
Furthermore, we believe that the provisions about interim registration were a good safeguard and submit that they should not have been omitted from the Heritage NZ Bill, because these provisions required that interim registration should be treated as a notice of requirement for a heritage order, which would provide real, albeit temporary, protection.
Subpart 2  National Historic Landmarks List: We note that a whole new section is introduced into the Heritage NZ Bill under this Subpart to establish and maintain a list of "places of outstanding national heritage value". 
On the face of it this would appear to be an excellent idea which might run parallel with the requirement in the RMA S6(b) "to recognise and provide for the protection of outstanding natural features and landscapes as matters of national importance". We would strongly support such a statement making provision for the protection of "places of outstanding national heritage value". 
We note two important purposes of the List are "to promote (a) an appreciation of places of greatest heritage value to the people of NZ, and (b) the conservation of such places, including their protection from natural disasters, to the greatest possible extent". [Underlining is our emphasis]
We would argue that the prediction of, and protection from, natural disasters is notoriously difficult to achieve. By contrast, the recognition of, and protection of important heritage values from man-made inappropriate subdivision, use and development, wilful damage, or even 'demolition by neglect' is much easier to anticipate and legislate to protect properly.
S81B(5) states that: "The List must not contain more than 50 places at any one time" . We submit that this is entirely unrealistic, and should be open-ended as is the recognition of outstanding natural landscapes under the RMA. We are aware that Archsite (the heritage listing of the Archaeological Association of NZ) contains no less than 2,500 recorded sites in Otago, and amazingly 220 recorded sites within Naseby Forest alone. While we do not expect that very many of these would achieve "outstanding national heritage" status it indicates to us that a limit of 50 such Landmarks is totally unrealistic and inadequate. We submit that there should be no limit to the number of places of "outstanding national heritage value" on the National Heritage Landmarks List.
S81C(3)(a) states that the Minister must "invite public submissions on a proposal to include a specified place on the List and have regard to submissions received". We support these requirements.
We note that S81C(4)(a) requires that the proposed place is subject to appropriate legal protection. This requirement is puzzling to us because we would argue that one of the most important reasons for inclusion on the List is in fact to put appropriate legal protection in place. We do appreciate of course, that this would be dependent upon our submission (above) on the purposes of the List being adopted by the Committee.
We note further in S81C(4)(b) that the owner's consent is required for the inclusion of the place on the List. Whilst we recognize that private owners have private property rights, we also wish to point out that the Government has a duty to protect the public interest in "places of outstanding national heritage value".
If there is an opportunity to do so, we may wish to be heard in support of this submission.
Yours faithfully
Wendy Browne
Secretary, Historic Places Central Otago Inc.