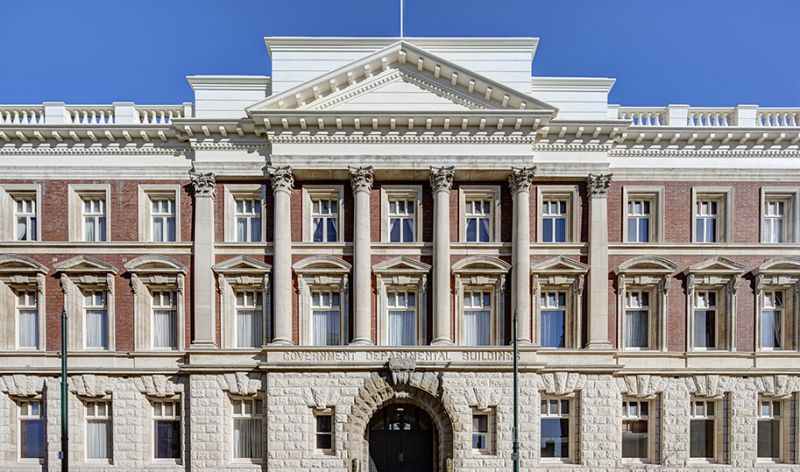 HERITAGE CHRISTCHURCH OPEN DAY – SUNDAY AFTERNOON 18 OCTOBER 2015 - FOR IMMEDIATE RELEASE
Celebrate a special piece of Christchurch's heritage with a peak behind the scenes at the Heritage Christchurch, set in the Old Government Building on Cathedral Square.
The 102 year old building's doors will open to the public for tours on the afternoon of Sunday 18 October as part of the Beca Heritage Week.
The 30 minute tours will be at 1PM, 2PM and 3 PM. Tours are free with a voluntary coin going to the Historic Places Canterbury welcomed.
The tours will be taken by entertaining historians and include information on the architecture by Joseph Clarkson Maddison and the many uses the building had over its long and enduring life time.
On display on the forecourt of the hotel will be a collection of vintage cars and also a band playing during the afternoon.
Dress up for the chance to win the prize for the best vintage dressed man and best vintage dressed woman on the day.
Website www.heritagehotels.co.nz/christchurch
ENDS
About Heritage Christchurch
Heritage Christchurch is a hotel set in the 102-year-old Old Government Building (OGB) on Cathedral Square. The hotel has been operating in the building since 1996 after a major redevelopment and strengthening. The luxurious property offers beautifully appointed self-contained one and two bedroom suites, plus, a fully equipped health club with lap pool, sauna and jacuzzi on site.
The OGB, designed by Joseph Clarkson Maddison in an Italian Renaissance Palazzo style, opened in 1913 and is registered as a Category One Building on the Historic Places Trust register. The building was awarded the Christchurch Heritage Trust Built Heritage Award in 2010 and the New Zealand Seismic Award 2012 in the Canterbury Heritage awards. In 2014 it received a further commendation in the Canterbury Heritage awards in the tourism category. The Old Government Building and its endurance has been described as of 'monumental importance' to the city's architectural heritage by experts and is a property Heritage Hotel Management is particularly proud of.
For bookings and information call 03 983 4800 or visit www.heritagehotels.co.nz/christchurch
Susan Gibson
T.H.E. Group Communications Manager
Heritage Hotel Management Management | 35 Hobson Street | PO Box 3904 | Auckland 1140 | NZ
| M 021 855 645 | E SusanG@heritagehotels.co.nz