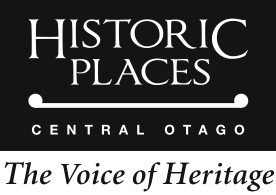 This submission focuses on the issues of Name Protection within the proposed Bill and also the ramifications of the lack of any clause in the proposed Bill on Membership, and the question of membership within a Crown Entity.
SUBMISSION
To:
The Local Government & Environment Committee
Parliament Buildings
WELLINGTON
On the Heritage New Zealand Pouhere Taonga Bill (HNZPT)
Introduction:
This Submission is made by Historic Places Central Otago (HPCO) which is a Regional Society representing members of Historic Places Aotearoa (HPA) located in Central Otago.
Historic Places Central Otago Inc. replaces the Central Otago Branch Committee of NZHPT.
Our objectives are the protection of heritage and providing local advocacy on heritage.
Background:
The formation of the HPA Regional Society has been brought about through the disestablishment of Branch Committees in the proposed Bill. We are now generally in favour of disestablishment component, but there is a provision that we do not support in section 21 (1)(b) Protection of names.
The current HPT and the new organisation to be – HNZPT, are facilitating a change to HPA Regional Societies in place of Branch Committees. There will be more new Regional Societies formed in years to come as new members join HPA and wish to set up active local advocacy groups and affiliate themselves with the name of Historic Places in their particular region.
The Minister for Arts, Culture and Heritage has publicly stated his support for new Regional Societies to carry on local advocacy work and leave Heritage New Zealand Pouhere Taonga to concentrate on Statutory advocacy.
Specific Changes
Section 21 states that; No body may be incorporated or registered under any other enactment or in any other manner under any of the following names:
(1)(b) Historic Places Trust, New Zealand Historic Places Trust, NZHPT, or New Zealand Historic Places Trust (Pouhere Taonga)
We wish to see this clause in section 21 removed as this will preclude any Regional Society being formed after the proposed legislation is passed. This is in direct contrast to the intent of the Minister to see local advocacy being undertaken by Regional Societies as part of Historic Places Aotearoa.
There are already a number of Regional Societies legally formed and registered as Incorporated Societies e.g. Historic Places Central Otago, Historic Places Canterbury, Historic Places Wellington etc. so this section of legislation is too late to have the desired effect of name protection.
It is also counter productive to the stated aims of the Minister for Arts, Culture and Heritage, of having Regional Societies carrying on the previous work of Branch Committees for the benefit of Heritage protection.
We would have thought that the Minister would be encouraging the continuance of heritage protection through this legislation by seeing the respected name of Historic Places being perpetuated albeit under a different governing body. It would appear the opposite is true.
Specific Comment
There is no provision in the proposed Bill for membership of an Autonomous Crown Entity as in the Historic Places Act 1993 (HPA 1993) legislation. There is also no membership provision in any other Crown Entity Act or Body either stated, implied, nor in actuality.
We can therefore assume that in the HPA 1993 revisions that took place in January 2005 and 2006 to comply with the Crown Entities Act 2004, membership was specifically provided for when it originally became an Autonomous Crown Entity in 2005.
The fact that it is now omitted from the new Bill implies that membership is no longer a provision for Heritage New Zealand Pouhere Taonga.
We would welcome this omission, as membership of a Crown Entity is contrary to its statutory function of heritage protection. It does not have any structure to represent its membership in any way, nor for members to support in any practical sense heritage advocacy. One of the stated purposes of the new Bill is to disestablish Branch Committees.
Conversely, membership should be facilitated through Historic Places Aotearoa where local advocacy is paramount to heritage protection.
We would strongly recommend that a Section on membership be included to facilitate the transition of the previous membership of HPT to Historic Places Aotearoa via a legal statute within the Bill.
This move would embody the desire of the Minister to facilitate local heritage advocacy and provide the appropriate vehicle for membership to be strengthened and increased in line with best result for heritage protection. This would encapsulate the origins and raison d'etre of HPT at its commencement some 55 years ago.
Summary
The specific tenor of this submission is to facilitate local heritage advocacy through Regional organisations and societies. HNZPT's stated aim is statutory advocacy. The above Bill amendments are entirely in line with these objectives for the ultimate benefit of heritage.
David White
Acting Chairman
Historic Places Central Otago