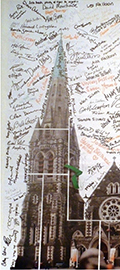 Mark Belton (Restore Christchurch Cathedral) has generously provided the text of a briefing  email he circulated.
Dear friends,
There is understandably some confusion about the Appeal Court Decision and the High Court action that is still in progress.
Below is a summary of Legal Situation:
In October 2012 the GCBT (Greater Christchurch Buildings Trust) asked the Court to rule on whether the Church/CPT (Church Property) had the power to demolish the Cathedral under the terms of the Trust that established the Cathedral.
Justice Chisholm determined in an interim judgement in High Court:
I. the CPT was only obliged to have 'a' cathedral on the site not 'the' cathedral.
II. The CPT must consult with the wider community about the Cathedral's future due to the importance of the building – it was not sufficient for the Church itself to make the decision in isolation.
III. There would be a stay on the demolition of the Cathedral until this consultation process was undertaken.
Justice Chisholm further commented:
a) The Church may reach a different decision from demolition, once it had fully consulted with the community
b) The Cathedral was of such community significance the Church/CPT (although the owner) was required to consult with the wider community.
c) The s.38 notice placed on the Cathedral by CERA may not be valid, as in his view, the Cathedral did not meet the criteria of a dangerous building within the Act.
The GCBT appealed, on point (i) of the interim judgement. As a result of this appeal the final judgement by J.Chisholm was put on hold. The Court of Appeal has now agreed with J Chisholm, that the Church was only required to have 'a' Cathedral on the site.
It is now likely the Church/CPT will complete their consultation process and make a decision on which of the 3 Cathedral options they want to build on the site. Once they have completed their process they will make an application to the High Court for a final judgement.
The GCBT will continue to represent the restoration option during these final hearings.
I hope this helps
Warm regards
Mark
In addition there is the Chen / Palmer legal opinion:
"Second cathedral campaign group to fight"- The Press reports on Restore Christchurch Cathedral and the Chen / Palmer legal opinion.