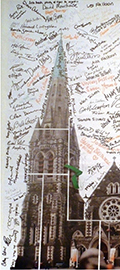 New Legal Opinion Challenges [NZ]HPT to withhold giving approval to demolition of Cathedral.  Mai Chen is now involved.
 "Chen adds weight to demo debate" (The Press online).
Text of The Restore Christchurch Cathedral  Group Media Release as is follows-Press Release:
The Restore Christchurch Cathedral group has obtained legal advice from ChenPalmer, winner for the last 5 years of the New Zealand Top Public Law Firm award, whether there are legal protections for Christchurch Cathedral in addition to the judgement being sought by Great Christchurch Buildings Trust from the High Court in relation to legislation governing the Anglican church's responsibility to protect and maintain the building.
Spokesperson Mark Belton said ChenPalmer had identified a statutory duty under the legislation governing the New Zealand Historic Places Trust which would strongly suggest it would be wrong for NZHPT to sign-off on the Church proceeding with its maximum demolition plan. Under the CER Act it is required that NZHPT approve and sign-off section 38 demolitions of buildings of high heritage and archaeological value.
Belton said " it is now crystal clear that there is no justification for the Church Property Trustees to proceed with maximum demolition on engineering or safety grounds, or on funding or cost grounds".
ChenPalmer acting on behalf of the Restore Christchurch Cathedral Group have sent a letter to the NZHPT reminding it of its statutory responsibilities.
Belton noted the NZHPT Board passed a resolution in April endorsing the call for a halt to further demolition (beyond demolition of the spire) based on engineering reports that indicated the feasibility of restoration. Since that time a number of expert reports (including affidavits submitted in the current High Court hearing) that have confirmed the cathedral can be safely and fully restored, and that the necessary funds for this purpose can be raised.
For further information contact Mark Belton (027 229 1483)
or alternately Nick Russell (021 475 388) or Mai Chen (64 21 565 709)  from ChenPalmer
ChenPalmer letter to NZHPT at the following link-  SKMBT_C360_12101213000