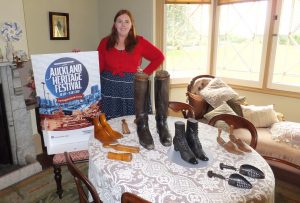 September 19
MEDIA RELEASE
Celebration of Shoes at Highwic
Discover the heart and sole of the footwear industry with a visit to Highwic's Heritage Festival exhibition.
To complement the Stepping Back, Stepping out shoe trail around Newmarket, Celebration of Shoes features memorabilia and mementos from Ziera, Overland and Kathryn Walker.
Some well known Auckland based actors and musicians will loan some shoes for a mini display named Treading The Boards. Jennifer Ward Lealand's contribution, for example, will be the shoes she wore in her show about Marlene Dietrich Falling in Love Again, and Michael Hurst will contribute shoes worn in his show No Holds Bard. Other contributors include Max Cryer, Ilona Rogers and Rachel House.
The private collection of designer shoes and vintage footwear from the past will be on display throughout the 17-roomed Carpenter Gothic house.
Of interest to all ages, children can find the glass slipper hidden throughout the house and go into the draw to win a prize.
Highwic is easily located close to train station and buses in Mortimer Pass, Newmarket. Highwic also has parking on site.
30th September- 15th October, Wednesday – Sunday. www.highwic.co.nz
Adults $8.00, children and Heritage New Zealand members free
Caption: Samantha Keen with some of her collection of shoes on display at Highwic.
Media Contact: Cheryl Laurie, Ph 09-524-5729