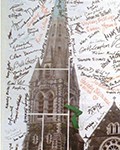 Jim Anderton informed the  Cathedral Meeting that the High Court hearing will be held on the 3rd / 4th October.
The Press has an online report here.
The Wizard called for the public to demonstrate their support for the Cathedral at the  Anglican Synod this Friday [starting 1.00 p.m.] and Saturday [9.00 a.m. start]. The Anglican Synod is being held at St.Christopher's,  7th and 8th September - 244 Avonhead Road
Christchurch.